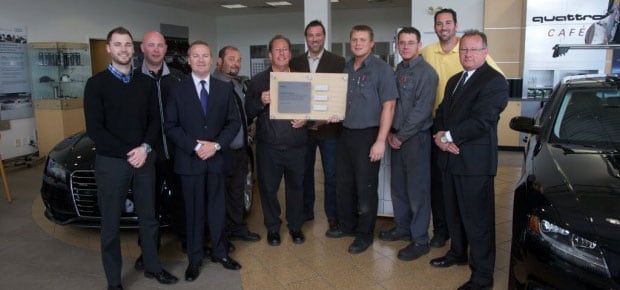 Team Audi Earns 4th Consecutive Magna Society Award
"
It's truly an honor for Team Audi to earn the Audi Magna Society Award from Audi of America for the 4th consecutive year in a row. I'm very proud of everyone at Team Audi for their dedication and hard work. It especially pleases me to know that our Team Audi Family of customers are very supportive of us and we couldn't have achieved this award without them. Our customer satisfaction scores are some of the highest in the country and we are very proud of that. We just want to thank our Audi clients, many of whom have become close friends of ours, for the opportunity to sell and service their Audi's
."
- Van Gurley (Team Audi)
This is the Magna Society award:
Magna Society program honors the best of the best among all U.S. Audi dealers
To earn the award, dealers must meet customer service and business objectives
The recognition fits alongside growth of Audi exclusive dealerships in the U.S.
HERNDON, VA, March 19, 2012 - Audi identified its top performing U.S. dealerships throughout 2011, a year that saw the brand and its retail partners post record sales results.

In all, 106 Audi dealerships earned the 2011 Magna Society recognition by providing superlative customer service while achieving strong overall business performance. Audi also recognize 10 dealerships as 2011 Audi Elite Magna Society winners, signifying their performance in the year stood out as the best of the best.

Audi established the Magna Society to recognize U.S. dealerships that stand out as the best of the best. To qualify, dealerships can't just meet or exceed sales targets. They must also demonstrate they are maintaining a solid financial foundation, merit high customer satisfaction scores and show their facilities and staffs represent the progressive Audi culture.
"At Audi, we intend to continuously improve the experience our customers encounter each time they interact with our premium brand," said Johan de Nysschen, President, Audi of America. "With the annual Magna Society awards we celebrate our dealer partners who've done the most to further that goal in the past year, while ensuring their franchise rests on a thriving business model."

The annual Magna Society awards fit with long-range plans established by Audi and its franchise partners to make Audi facilities more exclusive. In 2011, Audi increased its share of the U.S. imported luxury car segment to 9.5%, based on record annual U.S. sales of 117,561. The number of dealership locations exclusively selling Audi models increased by the end of 2011 to 153 in the U.S. from 15 exclusive dealerships operating in 1999.

Between 2008 and 2011, more than $206 million of Audi U.S. dealership investments came online. That level of intense capital investment is expected to continue, as nearly one-third of the network engages in facility actions the next two years, in order to address capacity growth.

By the end of 2011, 95% of Audi sales in the U.S. came from exclusive or brand-dedicated facilities. An Audi exclusive location sells only Audi models. A brand-dedicated facility sells only Audi cars and SUVs, but is adjacent to other franchises.